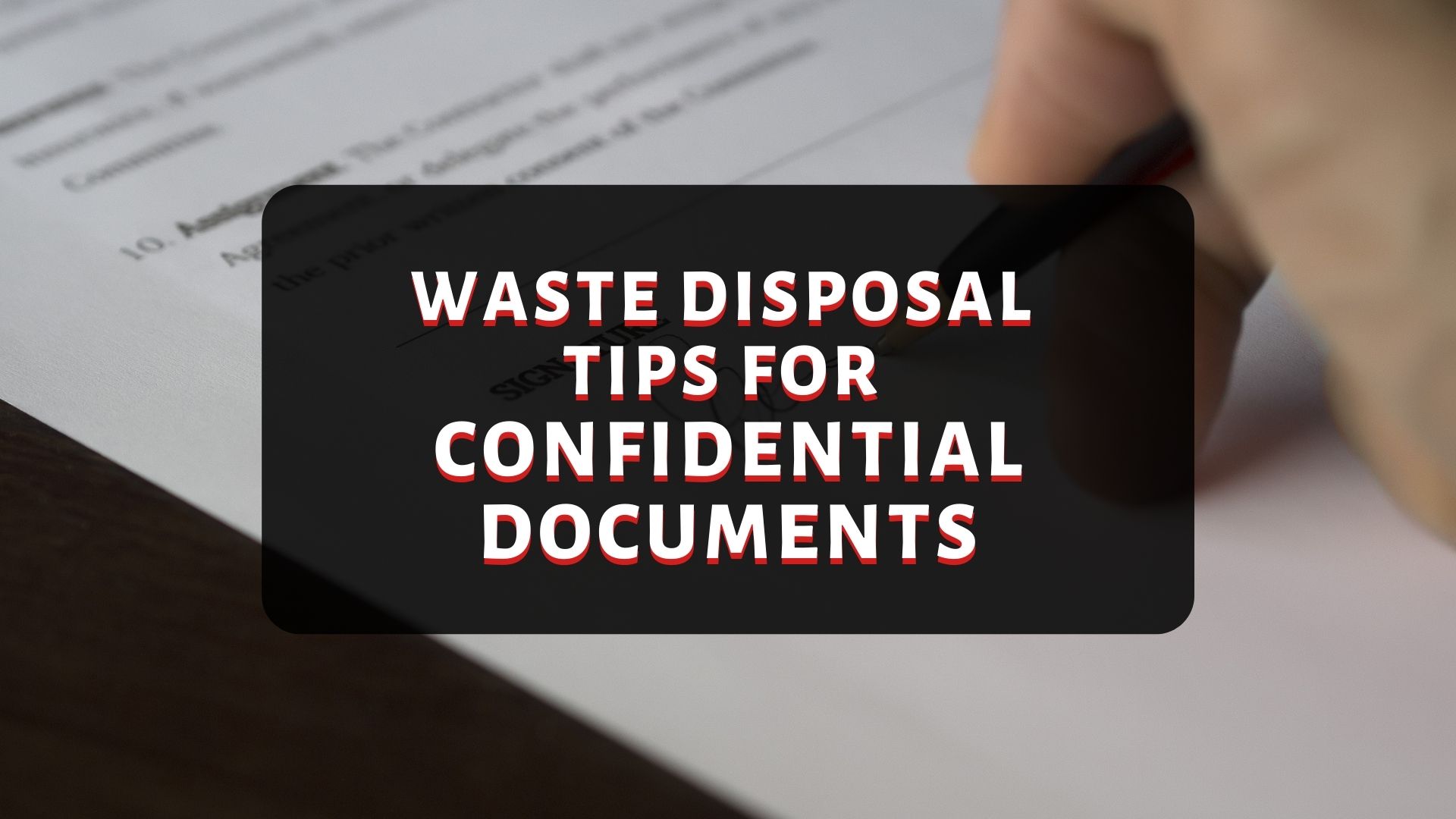 Even though we live in a digital world, businesses waste a significant quantity of paper each year. Protecting your sensitive information is a major concern for everybody, but it is especially vital for commercial businesses, which frequently have clients and partners that rely on reliable data protection. With just one error, you might face a hefty charge for violating the Data Protection Act. But don't worry; with the correct knowledge, disposing of your secret garbage is a breeze.
Waste Disposal Tips for Confidential Documents
The term "confidential waste" refers to papers held by any firm that may reveal sensitive information about suppliers, customers, or workers. If a third party has access to this information, they may commit fraud, extortion, or identity theft. Failure to dispose of sensitive garbage can result in a range of damaging effects for your organization, including legal prosecution. Identity theft, fraud, and unauthorized copying or distribution of your intellectual property are all examples of this.
Whether you are the person or an organization, managing confidential garbage is obviously a critical problem that, if done improperly, might have detrimental effects. Specialist help is essential, particularly because confidential garbage can include a wide range of materials and must be destroyed in a way that can be documented and proven. If confidential trash disposal is improperly conducted, organizations risk severe penalties and incarceration.
What is recycling paper?
Reprocessing wastepaper results in the creation of recycled paper that is manufactured from the original ingredients. Reusing materials like containers, discarded or undesired paper products, scraps from paper mills, old newspapers, magazines, etc. falls under this category. It is the type of stuff we categorize as "scrap paper." This can be recycled in its unaltered state or in shreds.
Tips to Manage Confidential Waste
Recognise Confidential Waste
Any document or equipment that holds confidential information regarding clients, partners, or workers is referred to as confidential garbage. It also contains information that, if viewed by a rival or member of the public, may endanger your company. Financial information, company plans, intellectual property, operational procedures, patents, designs, manuscripts, branding, and marketing tactics may be included.
These might range from meeting agendas and minutes to internal manuals, contracts, commercial agreements, resumes, expense reports, payroll data, supplier data, ID cards, or access cards. Any document that contains personal data like names, addresses, phone numbers, or email addresses. It's critical to understand the hazards that leaving these kinds of papers lying about might pose to your company.
Preventing Security Breaches
Security breaches that might land firms in hot water can be avoided with proper handling of confidential information. To prevent future security breaches, sensitive information may be effectively disposed of through document shredding and safe confidential trash disposal.
Businesses are frequently informed of the hazards associated with cybersecurity. However, they also run the risk of a breach if they improperly discard sensitive documents. To prevent a breach and a fine, it's crucial to have protocols in place for properly discarding sensitive information.
Storing Confidential Waste
A company must have a safe means of keeping sensitive garbage and papers in between collections once it has established a waste disposal policy and explained the procedures to workers. Most shredding businesses should be able to offer adequate storage for the size and type of the firm, but it's still a clever idea to double-check this with them in advance.
Set them up in a certain place in the office and make sure staff members are aware of where they are when it comes to storing sensitive garbage in these containers. A procedure for gaining access to a locked system must be in place if a firm has chosen that option.
How to Dispose of Confidential Waste?
When confidential papers are ready to be thrown away, they should be kept in safe containers so that a disposal service may pick them up. They can then be delivered to a location that specializes in shredding confidential garbage.
Shredding is a practical way to get rid of private papers since it obliterates written text and information. Data privacy is in danger when documents are disposed of in the standard manner means, without being shredded. Since waste or litter bins are frequently not secure and are open to public access.
It is unclear under the law if someone can lawfully go through your trash because it depends on their alleged motivation. So, it's advisable to secure secret garbage until it can be picked and disposed of by a suitable provider.
Teaching your employees, the value of carefully inspecting paperwork and electrical storage before they discard it is a crucial duty for you as an employer. If your employees are aware of the repercussions of a mistake, they are more inclined to dispose of the documents.
Always verify the regulations governing document destruction with your local government as they may vary by region. Shredders are often regarded as the most reliable method of destroying sensitive paperwork. Yet, specialized equipment must be used to erase electronic devices. To provide more complete destruction, cross-cut shredders may occasionally be required.
Since the charred portions are frequently unevenly distributed and might leave some of the pages still accessible, burning confidential garbage is not a suitable alternative for destruction. The only practical method for guaranteeing that all the paperwork is destroyed is confidential waste shredding.
It's one thing to safeguard secret information on your property, but it's crucial to distribute them securely when necessary. If you need to deliver tangible papers, it's a great idea to utilize a reputable courier service. Or you can get someone within your organization deliver them for you.
Is managing confidential waste sustainable?
If done properly, yes. Shredded paper may frequently only be recycled if it is picked up by a specialized recycling service. If you shred your own paper, there's a significant risk that your local garbage collection company won't recycle it since their facilities can't oversee it efficiently.
Final Thoughts
To make your paper waste disposal successful, all you need to do is reach out to a dependable bins supplier that deals with paper waste disposal bins. Power Bear Designer Bins is your one-stop solution for waste disposal bins.