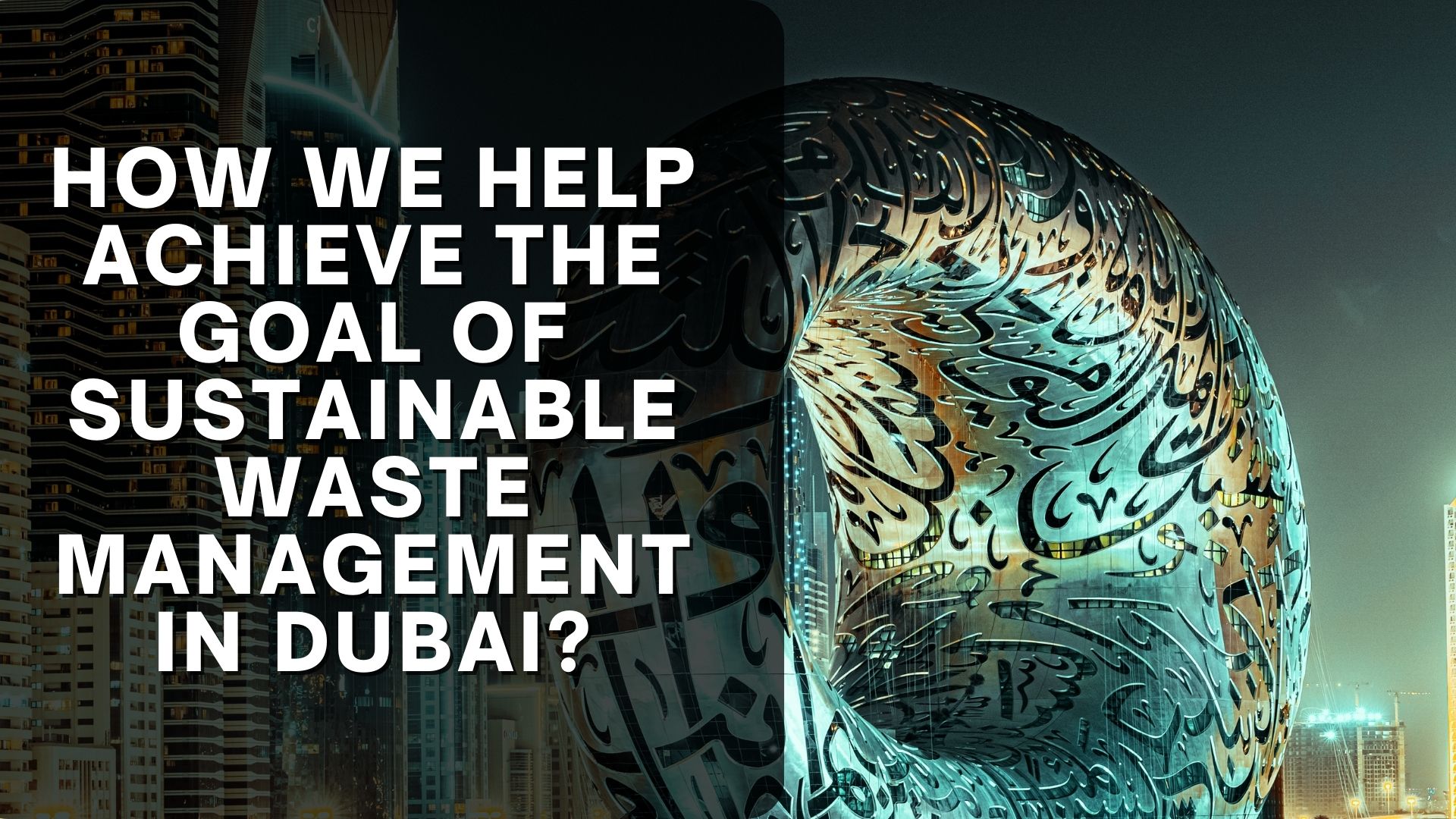 Dubai is a marvel for people all over the world and is regarded as an architectural wonder. Sustainable waste management in Dubai has become a genuine problem because of the nation's ongoing growth, rising visitor numbers, and limited resources. Sustainable waste management is necessary due to the decreasing land and labour resources as well as the rising rubbish. To manage the rubbish, the Dubai Municipality is focusing on developing a sustainable waste management system.
The Dubai administration has always paid close attention to keeping public areas tidy and ensuring that the infrastructure is well-maintained. The cleaning services are up to date with modern technology, efficient in terms of cost, and environmentally friendly. Objectives for waste management are never without significant difficulties, especially in the Middle East. In the nations of the Gulf Cooperation Council, municipalities oversee waste management. Most of these municipalities have broad policies and guidelines for the planning and disposal of solid waste, as well as initiatives to minimize the quantity of solid waste produced.
Setting Goals for Sustainable Waste Management
Teams are better equipped to communicate their objectives and progress when they have clear, quantifiable goals. Analyze your tracking information to create a baseline and guide your goal setting. Analyze your tracking information to create a baseline and guide your goal setting. Setting objectives enables you to focus actions on trash reduction and growing recycling initiatives. After then, use your benchmark to monitor your progress toward the targets.
Monitoring the number of recyclables and waste removed from your building offers you information on the amount of waste produced and the recycling rate, as well as how well your waste management program is working. However, a waste assessment is essential to gaining knowledge about how to improve. A trash assessment will provide you with crucial information to find waste reduction options.
In 2021, Director of Waste Management at Dubai Municipality, Er. Abdul Majeed Saifai, said "Apart from promoting sustainability, the Executive Council Resolution No. (58) aims to efficiently regulate the waste management sector in the emirate and reduce its carbon footprint. In addition to encouraging private sector investment, the resolution allows recycling facilities to impose charges on the waste they receive and treat in their facilities, thus enabling them to cover a large part of their operational costs and raise the economic feasibility of investing in this field."
He also said, "Dubai Municipality plays a leading role in protecting and preserving the environment through the federal and local legislative framework and achieving the Dubai Waste Management Strategy 2030 and the 17 Sustainable Development Goals announced by the United Nations for the year 2030."
The government believes that the new Resolution's adoption will motivate general waste producers to uphold their societal obligation to decrease trash and hasten the search for alternate disposal methods. Garbage producers are required to guarantee effective management of the waste they create since the cost of disposing of the separated waste is lower. Selling recyclables to licensed private waste management businesses can help waste producers financially.
The Dubai Municipality has established several policies and projects aimed at raising public awareness to lessen environmental pollution, boost trash recycling, and encourage resource conservation. The Dubai government has also started several initiatives to recycle garbage and generate renewable energy. They'll continue to do this to improve the sustainability of the environment.
Improve your Practices with Sustainable Waste Management
Waste Prevention
Creating less trash in the first place is the best strategy to minimize waste in your company. The biggest economic reductions and environmental advantages come from waste avoidance.
Reduce: By altering the creation, production, acquisition, or usage of resources or goods, organizations can reduce the quantity of waste they produce.
Reuse: Using items and packaging again extends their useful lives, postponing their eventual disposal or recycling.
Donate: Businesses can give goods or materials to those in need or who can use them.
Recycling
Recycling offers raw materials for the creation of new goods while also conserving energy and keeping waste out of landfills and incinerators. It does more than just make landfills last longer. It involves utilizing our resources as efficiently as possible and preserving them for future generations.
Availability: It refers to the collection system like recycling waste bins, location of waste bins, and availability of the recycling containers.
Important Note: A product should only be submitted for recycling if there are no other options for reuse or repair. The processing of these materials still costs time, energy, and money.
How PowerBear Designer Bins Can Help in Sustainability?
PowerBear Designer Bins supports the government in their initiative of achieving a sustainable environment through effective waste management. We have aimed at providing the best-in-class waste management and recycling resources at affordable costs. Recycling bins come in a broad variety of shapes, colors, and sizes and can be used in homes, workplaces, manufacturing plants, offices, schools, and other major organizations.
You may design your own recycling container to complement your decor in addition to selecting the appropriate waste streams for your business. Because they resemble a fashionable piece of furniture more than a trash can, our custom recycling bins are well-liked by a wide range of organizations.
Recycling bins are an asset that will help your business become more sustainable by saving money, energy, and the environment. Using recycling bins properly contributes to a better, cleaner, and greener world. Choose a trash can that is the right size for the volume of trash produced. To prevent it from overflowing, make sure it is big enough. Where the recycling bin station should be placed depends on where it can be easily noticed and used.
Closing Thoughts
The two components that are most critical to sustainable development are recycling and reuse. The first and most crucial phase in waste management is trash minimization. Recycling and reusing are more crucial than trash treatment. It is necessary to sort the rubbish that has been collected from homes before it is dumped in landfills. A portion of the garbage generated must be treated before it can be recycled or used again. Recycling and reuse of garbage are being implemented extremely successfully and sustainably by several waste management firms in Dubai.