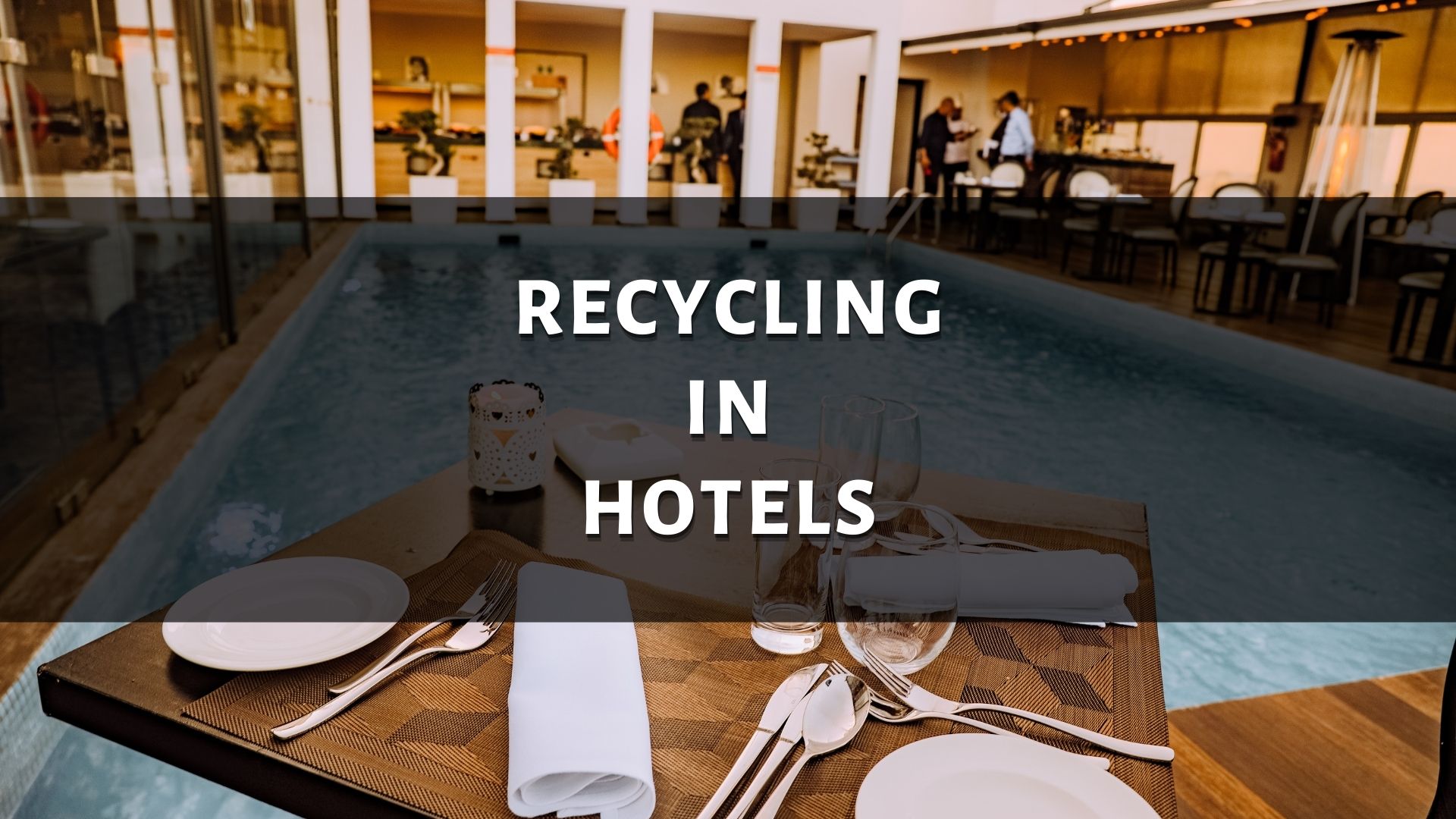 The hotel sector has long believed that it is different from other types of enterprises when it comes to environmental protection. Hotels frequently struggle to separate their recyclable waste from their garbage due to the variety of tasks and personnel positions, the endless 24-hour operations schedule, and the need of providing excellent service. Hotel owners and management have increased their attention to waste management initiatives in recent years.
Success at recycling generally requires giving managers and employees the proper incentives and making use of resources and ideas that might otherwise go unused or underdeveloped. Additionally, there is frequently a sizable level of collaboration and community support that may be very helpful in attaining trash minimization and recycling objectives.
The hotel sector generates millions of tons of rubbish annually, with each day's trash production by a typical visitor amounting to about 2.5 pounds. The majority of the garbage produced by hotels is typically disposed of in landfills. Since 50–60% of hotels' total waste stream is thought to be recyclable, recycling presents a huge potential for them when they use industry-best practices and methods. Continue reading to find out more about the trash issues facing the hospitality sector and how to assist them to prevent their garbage from going to a landfill.
Understanding the Common Objectives of Recycling
When it comes to waste management, we have discovered that hotel managers must deal with a variety of issues that drive up expenses and cause the majority of their materials to be disposed of in landfills.
Most hotel structures dedicate as much room as they can to front-of-house amenities including the reception area, lobby, restaurant, and event facilities. This leaves very little room at the back of the home for the storage and sorting of rubbish. Managers believe they lack sufficient area to oversee a recycling program due to the lack of available space.
Managing the many types of hotel garbage can be challenging, in addition to space constraints. The enormous, varied volumes of garbage can make effectively recycling them a last-minute consideration, from the little soap and bottle caps in each guest room to substantial amounts of food waste from restaurants.
Getting visitors to support hotel recycling initiatives is another challenge. Even while many individuals recycle at home, who is to say that visitors won't recycle while travelling?
Benefits of Recycling in Hotel
Positive Image
Recycling and sustainability will help your firm save money and lessen its carbon impact while also enhancing its reputation. Some individuals' purchasing decisions may change as more people become environmentally concerned. People may be more likely to visit if you represent yourself as a firm with a minimal carbon footprint because of your dedication to recycling since they want to support an environmentally conscious company. Additionally, it could enhance how your business is seen locally.
Environmental Impact
The influence your activities will have on the environment is recycling's biggest advantage. Making a new product out of recycled materials uses a lot less energy than making a new product out of brand-new resources. Recycling keeps things like plastic, glass, and aluminium out of landfills where they can disintegrate for up to 450 years.
Cost-Effective
Reducing garbage through recycling will lower the cost of waste disposal for your company. When compared to normal rubbish, recycling pickup is frequently less expensive to arrange. Due to the weight of the glass, it is more expensive to throw away glass bottles with your regular trash. Recycling glass is therefore likely to save you money in instances like these.
Tips to Recycle Your Business
Carry an Audit
You must first know how much garbage your company is producing. To achieve this, do a trash audit to determine what is frequently disposed of in the general waste. This will primarily rely on the company.
Management of food waste is a crucial aspect to take into account. Even though you'll have waste management policies in place for your inventory, there's no way to ensure that you won't need to throw away food for safety concerns. Think about whether you can give safe food to a charity so that it may be distributed again for human use rather than throwing it trash.
Find Right Waste Contractor
You should look for a recycling garbage contractor that suits your demands by assisting your company in adhering to the law's regulations. Leading waste management equipment providers like German Distribution can provide you the tailored solutions, essentials and contacts. You should have already identified the materials you squander a lot of thanks to the audit. Use this data to pinpoint places where you may increase recycling and cut back on waste disposal.
Ask if they provide separate recycling for each type of material (glass, paper, plastic, etc.), whether it is combined, or if some materials are excluded. A reliable waste bin provider will help you find the right recycling waste container for your hotel.
Consider Ideal Location for Bins
After hiring a recycling waste provider, you must choose a location for the containers. You could have decided to have both indoor and outdoor dumpsters at your location for convenience. Think about where workers will produce certain sorts of garbage and place the proper container close by. Therefore, placing a glass container behind a bar should serve as a visual cue to remind staff to dump glass in it right away.
This may be true in terms of food safety, in particular, depending on the organization. General garbage or food waste container should not be kept adjacent to the area where food is produced. Instead, keep it somewhere you can still get it quickly that won't jeopardize food safety requirements. The recycling garbage contractor must be able to quickly access your outside bins, too.
Types of Recycling Bins to Use in Hotel
General Waste
Any garbage that cannot be recycled, such as specific kinds of plastic, falls under general waste.
Some business waste management companies recycle normal garbage rather than dumping it in landfills.
Food Waste Bins
Food waste may be particularly heavy, making its disposal in regular trash highly expensive.
Food recycling is an alternative that will reduce waste expenses.
Mixed Recycling
Depending on the company you select and the service offered by your local municipality, the kind of mixed recycling will vary.
It could combine recyclable elements like Tetra Pak, tin, paper, and plastic.
Glass Recycling
Alternatively, you could like to have separate containers for each type of waste instead of combined recycling.
Glass garbage is usually produced in huge quantities at bars and restaurants.
Paper Waste
Compared to glass or plastic, your organization can create a lot more paper or cardboard trash.
You could discover that a separate paper and cardboard container is more suited to your needs than combined recycling bins.
It is possible to recycle cardboard to create fresh cardboard or packaging materials.
Although regularly managing big amounts of garbage might be scary, many hotels have discovered that putting recycling ideas into practice isn't difficult and the advantages are worthwhile! If your hotels require recycling containers, please let us know. Contact PowerBear Designer Bins at any time if you have any inquiries.